Top 5 Things You Must Have When Attending a Bead Show
Posted August 13, 2016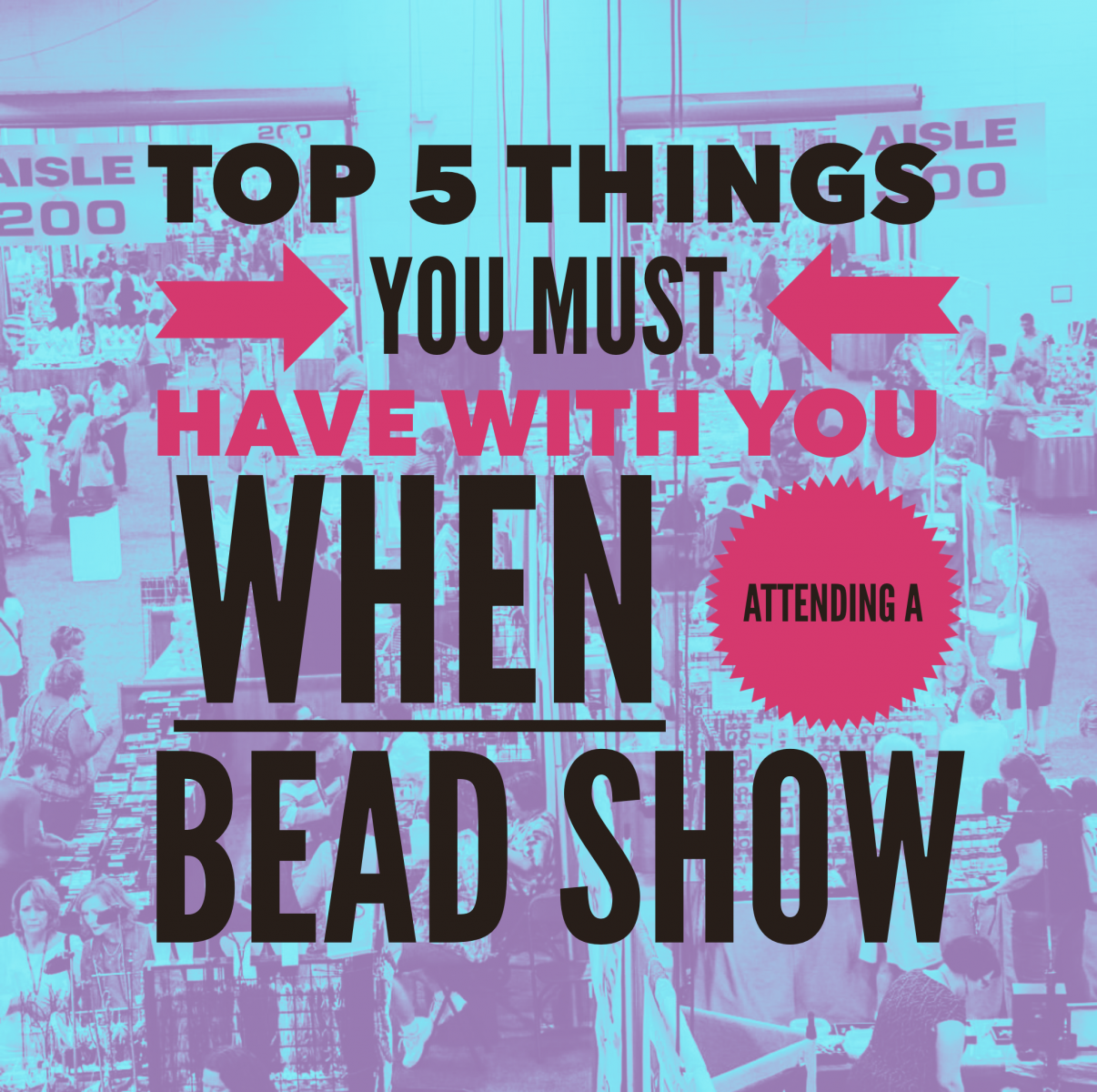 I've been to countless bead shows in my lifetime. They are utterly euphoric and the best way to spend a day because you are in a huge space filled with the things you love most in the world at every turn--BEADS!


I've learned from experience that a few things can absolutely make or break your time at a bead show. With the Bead Fest Summer Show just around the corner, I've compiled a list of must-haves that I swear by to make the most out of my bead show navigation: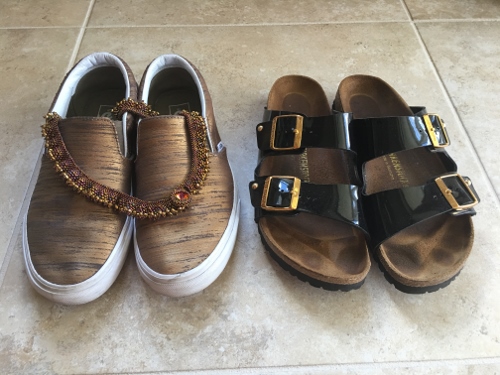 1. Comfortable Shoes
So many times I've suffered in the name of fashion and worn cute shoes to coordinate with my outfit. What I've discovered is that most bead shows are held in huge convention centers with lots of ground to cover (think quadrupole digit square footage!). These places almost always have concrete floors, which are also tough on your feet. So the most important thing you can do for yourself is to wear comfortable shoes--sneakers are a really cute option right now with the athleisure movement making it stylish to wear them doing ALMOST anything nowadays. If that's absolutely a deal breaker for you--hey, I get it, I was there--at least wear a pair of shoes that will allow you to slip in a good pair of insoles to give you extra support during the show.

My favorite comfortable shoe brands:
Vans Slip On Sneakers: The trendy traditional sneaker alternative, available in many color and design options (Honestly, a few pairs of these guys will coordinate with EVERYTHING in your closet. I own the gold, silver and fun floral print pattern.)
Birkenstocks: Any version of this brand is great for happy feet, but my favorite are the Arizona style, which is perfect for warmer climates (and to show off that pedi) and they are also available in many color choices. I sport the metallic gold and black patent leather!
Favorite insoles:
Spenco Gel Total Support Insoles: These insoles are cloud-like cusions for your feet and great to counterbalance the affects of standing on concrete floors. Simply remove the insert that comes with your shoes and replace with these life-savers.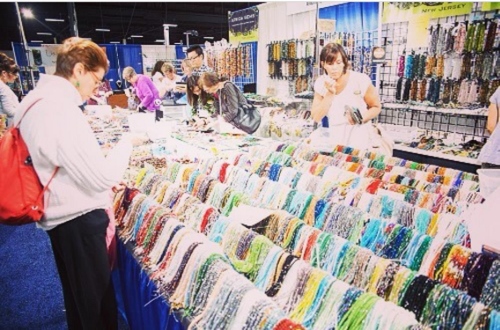 2. Hand Sanitizer
As you already know, beaders are tactile people. We like to touch and hold and even smell our beads. (Have you ever held a jasper gemstone cabochon up to your nose? It smells like the good earth! Good sign--means it's real!) So you can imagine all the people before you who have also touched and held and smelled the beads that call out to you to do the same. I'm not suggesting bringing a gallon of hand sanitizer and drenching your hands before and after each vendor, but a travel size bottle comes in handy for germ touch-ups throughout the day.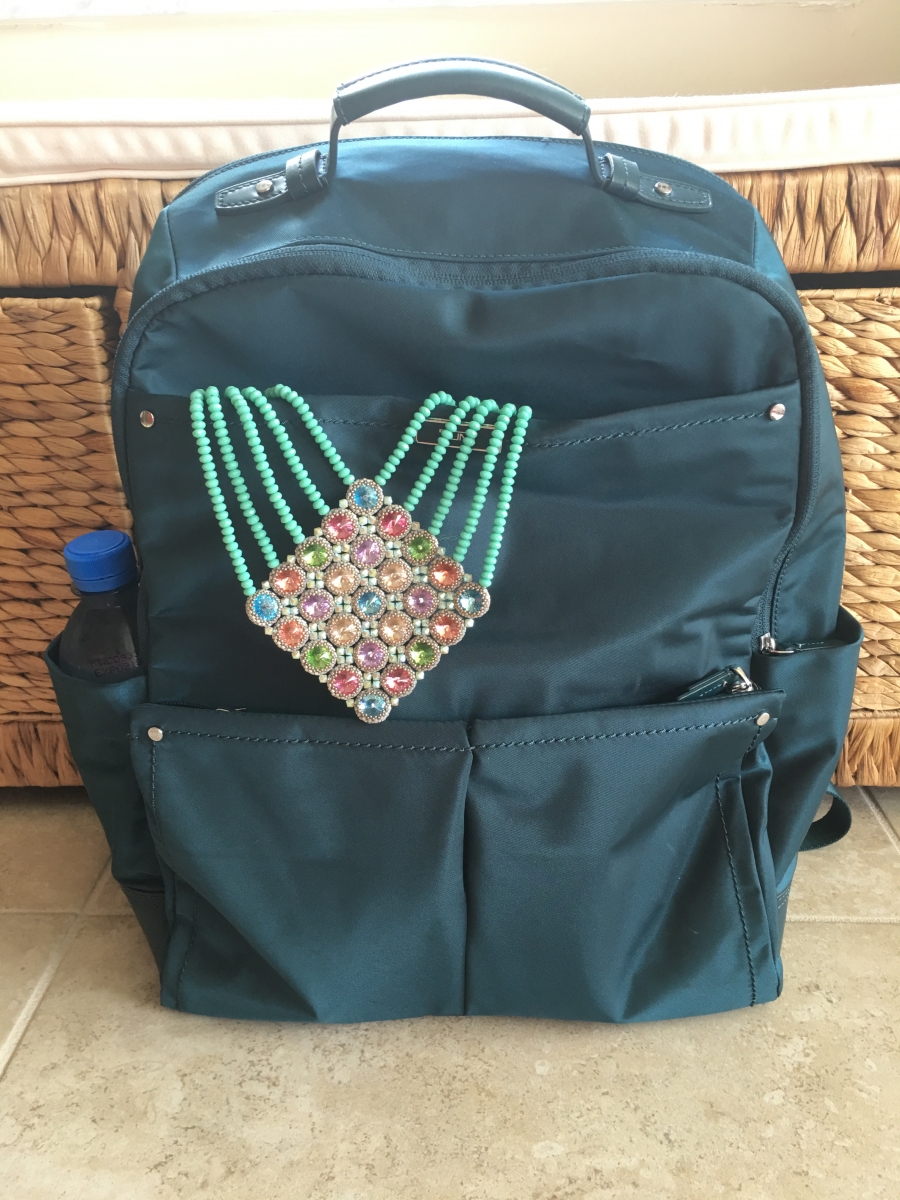 3. A Bag to Haul Your Purchases
Since beads are small, and unless your buying a lot of stuff from one vendor, you are likely to be handed your purchased items in a plastic ziplock or small brown bag. It's true good things come in small packages, but a bunch of these bags--without handles, mind you--can become cumbersome, and the worst thing would be to accidentally misplace one while browsing at the next vendor. I always bring a tote bag or small backpack from home to immediately house my purchases. This same bag can haul all the other things I recommend bringing with you to a bead show.
I got this Tumi backpack on major sale at TJMaxx. I love the convenient spot for a water bottle and all the compartments make organizing my must-haves easy.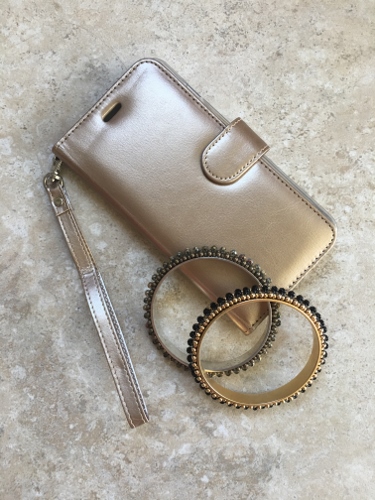 4. A small clutch/wallet
I'm constantly taking photos of pretty things that inspire me. So I always want my phone at the ready. (Also it's good to have handy if you went with a bead buddy and split up to shop separately. Don't leave your friend hanging while she's trying to decide between crystal AB or crystal shadow Swarovski rivolis. I mean, the obvious answer is to buy both, but she might not know that and it's your obligation as a good friend to help her out!) Having this to hold your phone, cash, credit cards and other small items so you can shop hands free makes it easy to quickly check out and move on to the next vendor when your wallet is easily accessible.
I love this economic option available in multiple colors and patterns.
5. Snacks
Bead Shows are notorious for having a poor and limited selection of food. Let's face it--you will most likely be at the bead show for most of the day. (If not, please email me your secrets of self-discipline ASAP!) So you are most likely to get hungry, and you don't want to shop while hangry. If semi- average hotdogs and French fries are up your alley, that's fine, but if you're looking for something healthier, perhaps with a little more substance that gives you sustained energy to walk around the bead show ALL DAY, here are my favorite packable food options:
beef jerky: optimal protein
Kind Bars: another protein option, without the smell of charred beef following you around
BelVita Cookies: A sweet treat that packs a healthy complex carb
As you can see, a lot of these options are pleasantly portable and perfectly pop able, so you can eat and walk. Just use the hand sanitizer before AND after touching the beads!
A bottle of water or refillable water bottle is always a good idea as well. Dehydration can make you tired and you need your energy to get through EVERY booth at the show.
Happy bead shopping!
Tell me, what are your must-have items when attending a bead show?
Some of my favorite Bead Shows to attend are the Summer Bead Fest in Oaks, PA (they have other locations, too), the Bead & Button Show in Milwaukee, WI and any of the fabulous bead shows in Tucson, AZ. (A post about the shows I visited in Tucson to come soon!)
Let it bead,
Marla
» Share: